About EJM Dental Studio
in Columbia, MD
At EJM Dental Studio, we want our patients to feel as comfortable and relaxed as possible from the moment they enter our office to the moment they leave. Our compassionate team works one on one with each patient to provide them with the personalized care that they deserve. Some of our staff speak Spanish, Portuguese, and Tamil as well, and we are happy to communicate with patients in these languages.
We are always devoted to staying on the cutting edge of dentistry and providing a positive, stress-free environment that patients can enjoy. To learn more about our office or schedule your next visit, please contact us!
Contact Us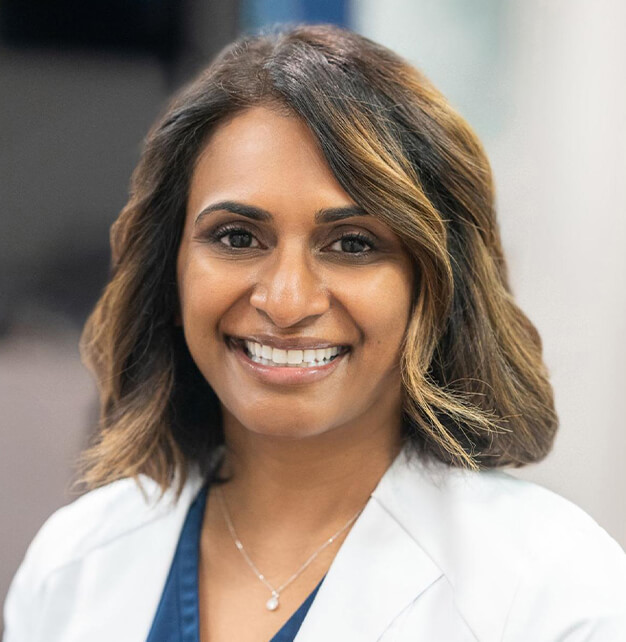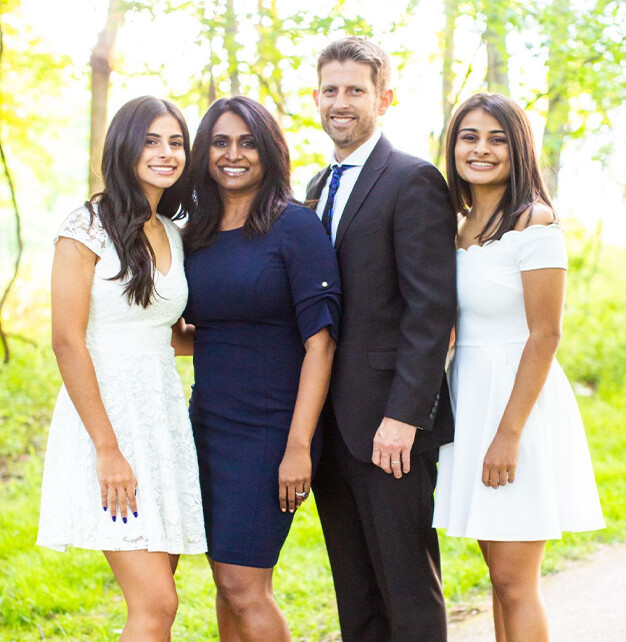 Dr. Elsie Joel-Morse
Dr. Elsie Joel-Morse loves being a dentist, and her passion is evident from the moment you meet her. She has been practicing dentistry since graduating from University of Maryland Dental School in May 2003. Understanding that skill and compassion go hand in hand, she combines her dental expertise with modern procedures and cutting-edge technology in order to provide you with the most current treatment options.
Dr. Morse brings an ease to all dental visits and finds working with the apprehensive patient particularly rewarding. She also enjoys all aspects of dentistry and is a Platinum+ Invisalign Provider. She has taken advanced training in CEREC® technology and has been recognized as one of the Top Dentists by Baltimore magazine.
Dr. Morse and her husband Bryan live in Ellicott City and enjoy spending time with their two daughters, Reina and Jasmine. During her free time, Dr. Morse likes to cook, read, workout, travel, and now has a passion to rollerskate like a pro. She is also a loyal Washington Commanders fan and can be found watching as many NFL games as possible. She brings care and humor to each visit and loves connecting with her patients. You are going to absolutely love her!!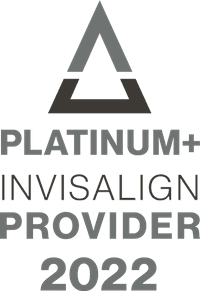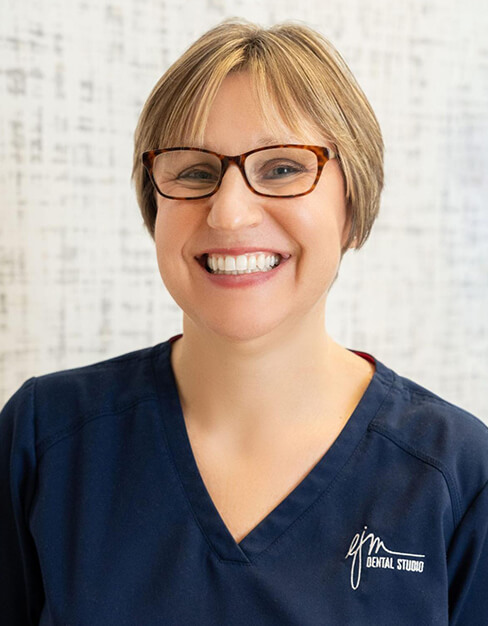 Jackie
Clinical Manager
Jackie has been part of the EJM team from before it opened its doors. She is an OG and has been working with Dr. Morse for about 18 years and still laughs at all the jokes like she heard it for the first time. She received her dental radiology certification and Qualified Dental Assisting License from the Medix School.
As clinical manager, she excels in providing quality patient care with a gentle touch and sense of humor. Jackie is the very heartbeat of EJM Dental Studio, as she takes care of everything behind the scenes. She brings her excellence, dedication and extensive dental knowledge to help you achieve your dental needs and create a healthier you.
Jackie is an aspiring DJ and lover of 70s & 80s rock and watching the Baltimore Ravens. She is also known to be a "walking weather app." Jackie enjoys long walks, good drinks and hanging out on the deck with her family and friends. She is positively encouraging and you will leave happier every time you see her.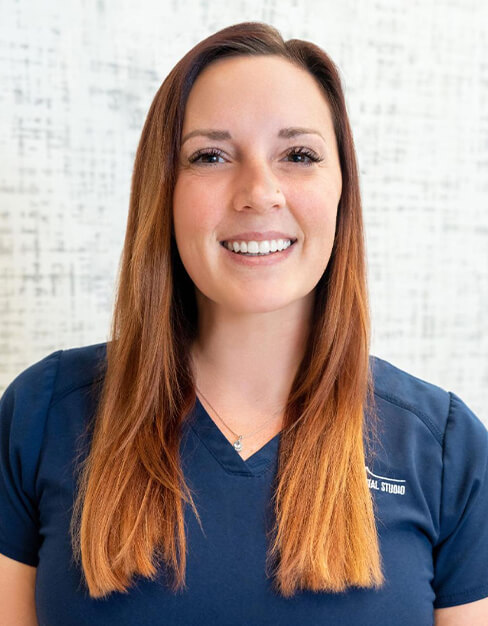 Melissa
RDH, Dental Hygienist
Melissa is EXCITED to be part of a growing team here at EJM dental studio. Born and raised on Maryland's eastern shore, Melissa's love of dentistry started right out of high school when she became a dental assistant. After eight years, she decided to take her career to the next level and went on to become a dental hygienist. Melissa received her Dental Hygiene degree in 2016, and she is also licensed to administer local anesthesia.
In her spare time, you can find Melissa hanging out with her dog, Grace, going to the gym, traveling and meeting new people from all over the world! Her fun and compassionate approach to dental care will keep you laughing and educated at the same time. You are going to love her fun-loving "vibe"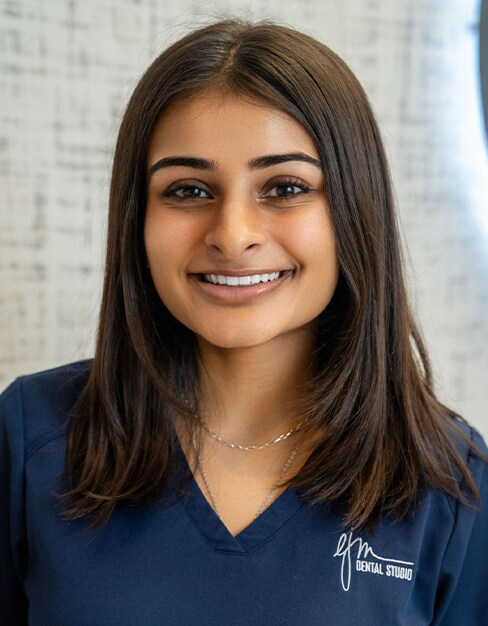 Reina
Dental Assistant
Reina has been a part of the EJM team since the summer of 2017. She is currently a sophomore at UMD. Reina plays a pivotal role in keeping the clinical procedures going smoothly and the treatment rooms pristine and organized. She loves taking digital impressions with an iTero and eliminating the need for goopy impressions. She is the quiet mega-helper to our clinical manager.
When she is not working, you can find Reina spending time with her friends, watching Netflix and TikTok, and spending time with her "furry" siblings, Pixie, Nala and Hudson. Reina is creative and musically talented, and she loves to sing and play the violin, piano, flute, and piccolo.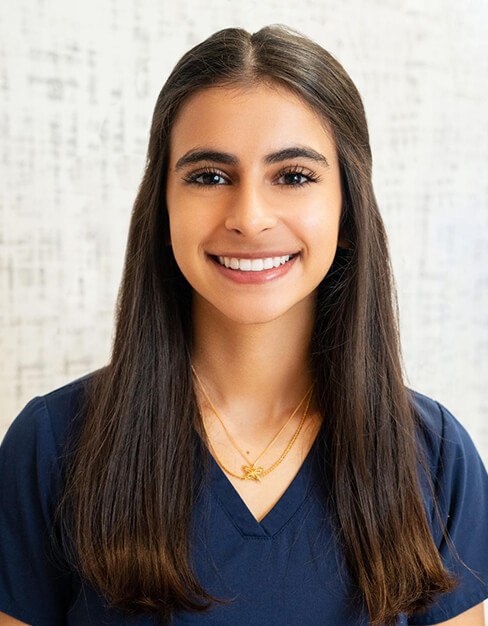 Jasmine
Patient Relationship Coordinator
Jasmine is our Patient Relationship Coordinator here at EJM Dental Studio. She is currently a sophomore at UMBC. She provides excellent customer service to assist patients in scheduling appointments, understanding dental benefits, and answering pertinent questions to help with the seamless flow of the office.
Jasmine loves going to the gym, going to the beach and spending time in the sun. In the future, Jasmine is interested in pursuing a career in business, and she is working towards getting her MBA in the future.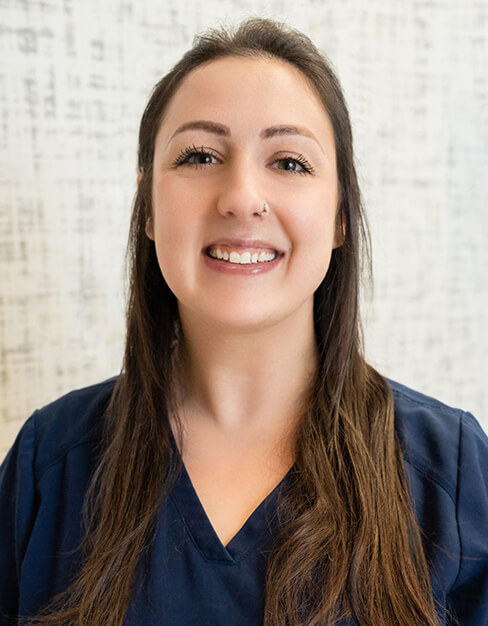 Aimee
CDA, Certified Dental Assistant ~ Expanded Functions
Aimee joined EJM in 2021 and has brought all of her passion to this practice. Her love for animals (from cats and dogs to racoons and spiders) is heartwarming. Aimee is proficient at CEREC technology—she designs, stains and glazes SAME-DAY crowns. She is passionate about learning, very meticulous in her work, and rises to every challenge. She can be found literally bumping heads with Dr. Morse as she wants to be just as involved with every dental procedure.
Aimee loves watching episodes of Friends, Seinfeld, and New Girl over and over again. She can also connect any two characters/people/celebrities with 6 degrees of separation and will most likely talk to you with a new accent every time you see her. Get ready to have a great time when she is assisting!!

State-of-the-Art

Dental Technology

EJM Dental Studio is committed to continually investing in highly advanced dental technology to keep our care comfortable, efficient, and effective.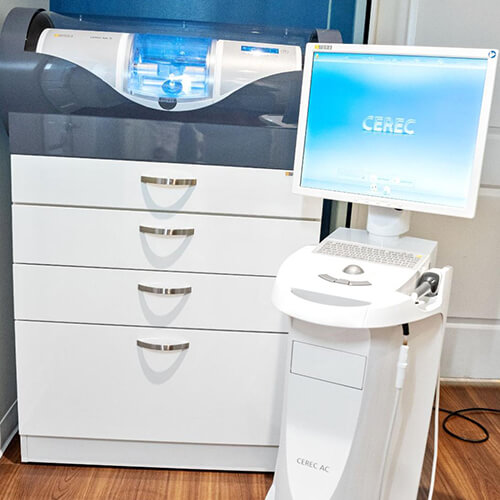 CEREC® Same-Day Crowns
Traditional dental crowns require placing temporary crowns and scheduling multiple dental visits. With CEREC technology, our team is able to design, create, and place durable dental crowns for our patients in one convenient appointment! Once the tooth is prepped and impressions are taken, CAD technology is used to create a digital model before it is printed and securely placed over the tooth.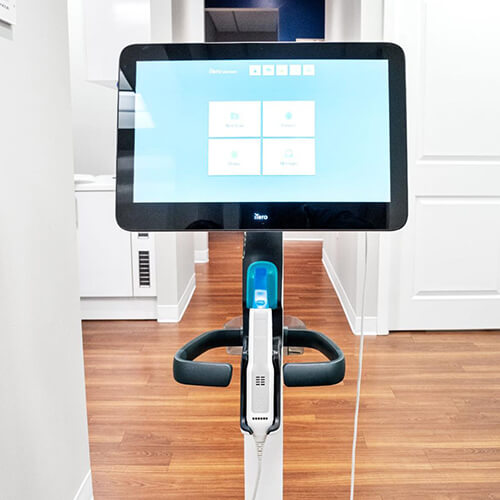 iTero® Scanner
Traditional dental impressions can be messy, less accurate, and stressful for patients with strong gag reflexes. With iTero, patients can have digital impressions taken, which involve a handheld device being run over the top, bottom, and sides of their teeth. iTero captures thousands of images within minutes to create a very precise digital model of the patient's teeth.
Intraoral Camera
Ever wish you could see what your dentist sees? Intraoral cameras are small devices that stream live video to a screen that can be viewed by both the patient and their dentist. This provides an up-close view of the patient's teeth and gums, and pictures can be taken and added to the patient's file for future reference.
Isolite Technology
Isolite devices serve several purposes during dental procedures. They help keep the patient's mouth open and provide a comfortable place for them to rest their jaw. They also suction saliva and illuminate the inside of the patient's mouth, making it easier and more efficient for our team to provide exceptional care.
Soft-Tissue Laser Therapy
Laser gum therapy may sound scary, but it's actually a minimally-invasive way to treat gum disease. With laser therapy, there is less swelling and bleeding during treatment, there are no loud and anxiety-inducing drills, and more of the healthy areas of the gums can remain untouched. Laser gum therapy also promotes faster healing, and there is less risk of an infection developing.
Giving Back to the Community
At EJM Dental Studio, we deeply value the Columbia area, and we always want to do our part and give back to the community that we value so much. Our team routinely participates in charity events, including toy drives and diaper drives, and we are happy to support non-profit organizations that directly benefit refugees and other marginalized groups. We believe being a dental office is only part of our job, and we pride ourselves on being a local dental practice that stays involved in the community.